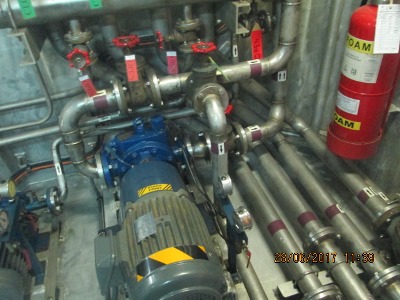 Techwise conducted a vessel fuel consumption audit on behalf of a charterer. The objective of the audit was to establish a fuel consumption level agreed by both the owner and the charterer through an independent third-party audit.
The Scope of Work of our fuel consumption audit included:
To inspect fuel tank & fuel line arrangement including bunkering lines & overboard pumping lines;

To review documents onboard – log books, consumption figures, main engine / generator engine load, RPM, etc.;

To review engine manufacturers shop test trial report & vessel builders' sea trial report;

To compare current consumption level with shop test & sea trial report & manufacturers declared specific fuel consumption figures;

To carry out sea trial for 1 to 2 hours in order to establish current level of consumption and check peak pressures & performance parameters at full load;

To review engine / turbo charger maintenance records and carry out pressure test of fuel injectors at random;

To provide the auditor's opinion on the fuel consumption reported by the vessel operator.
The audit was carried out successfully and the results were accepted by both the vessel owners and charterers. For more details of our marine assurance services, please contact us at techwise@techwise-offshore.com.
05/07/2017